×
Brandy Metzger
dollhouse
×
DIY: Bookcase Dollhouse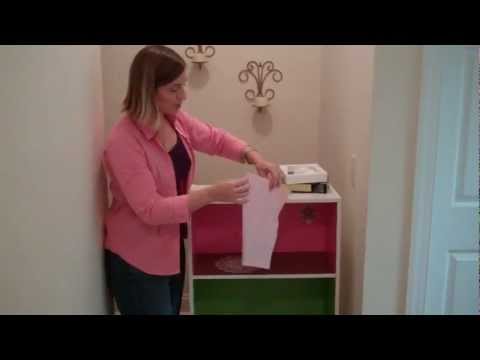 My daughter, who turned four years old a few months ago, just started playing with Barbie Dolls. I am thrilled since these were a favorite childhood toy of mine. Based on this new-found affection for Barbie Dolls, I decided that a dollhouse would make a great holiday gift for her. However, as I began to look at the dollhouses available in stores, I found that they were very small and would not easily accommodate several dolls and furniture.
As I was looking at one of our bookcases at my house one day, I had a brainstorm. I could turn a bookcase into a dollhouse. With the right bookcase and some simple accessories to decorate it, I knew that I could create a dollhouse that my daughter would really enjoy. Here are the steps I followed and the materials I used to create a doll house suitable for 10 inch dolls.
First, I found a white bookcase that has the following dimensions: 40.0 " H x 24.0 " W x 11.0 " D and 3 shelves. The 3 shelves would act as 3 different rooms in the doll house.
Next, I decided to get Con-tact Paper that looked like wood to create the illusion of a wooden floor. I applied the Con-tact Paper to all 3 shelves.
With the floors in place, it was time to focus on the walls in each room. I wanted each space to look different, but I didn't want to repaint the book shelf. Instead, I found a product called Wall Pops!. These stylish wall stickers come in a variety of colors and patterns. I chose 2 different colors and one pattern to attach to the walls in the dollhouse. Once each room had its own color scheme, I cut out designs from a different Wall Pops! pack to use as an area rug on the wooden floor and also wall art for the bathroom.
I decided that the top floor of the dollhouse would be the bedroom and bathroom area, but I wanted to create a divider between these 2 spaces. I chose to hang a curtain of felt between the two spaces to separate them. This was done by tacking the felt to the top of the bookcase with a staple gun.
Finally, it was time to add furnishings to the home. Most of the furniture is Barbie furniture made by Mattel. This is the only furniture that I was able to find that is made for 10 inch dolls. It is well made and the colors are very cute. A few accessories were purchased at a local craft store and I made the sofa for the living room out of wood scraps and fabric.
Check out the video to see the complete transformation of the bookcase into the dollhouse.
Materials used can be found at the following websites:
Con-tact Paper http://www.contactbrand.com/
Wall Pops! www.wallpops.com
Barbie Furnishings http://shop.mattel.com/family/index.jsp?categoryId=3748545